Opto Engineering & Dynamic Optics – Booth 5551 @ SPIE Photonics West exhibition 05-07 February 2019 – San Francisco, CA, USA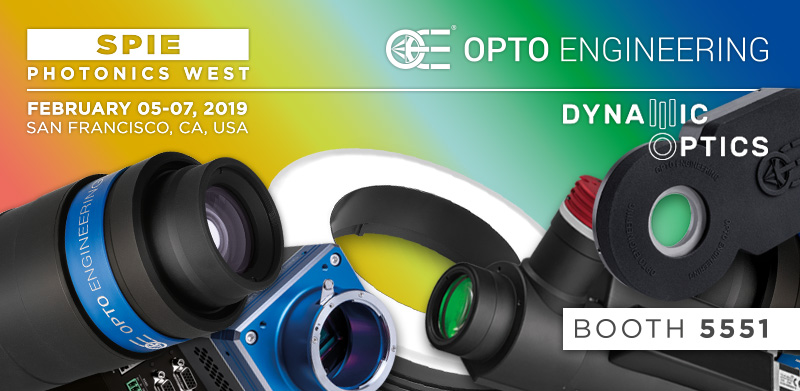 You get the views, You get the Vision

Come visit us at Photonics West, the leading global event for the photonics and laser industries, and let us impress you with our unique offering of advanced optics and imaging technologies!
Opto Engineering & Dynamic Optics
05-07 February 2019,
SPIE Photonics West exhibition
We encourage you to schedule a meeting with one of our local sales engineers in advance to discuss about your specific needs.
Opto Engineering products

Adaptive lens for fast focusing, AO series
Adjusting the focus of a camera on a robot arm or tracking items across the field of view are common examples where dynamic lens focusing is required.
For this purpose, Opto Engineering® has developed a small plug-and-play focusing lens with embedded optics and electronics. Adjusting focus on the fly has never been so easy.
71MP, 48MP, 29MP High Resolution Cameras for outstanding image quality • NEW
Whether the application requires to image large areas with high pixel count or to measure small parts with extreme accuracy, Opto Engineering's COE series cameras are up to the challenge. Using the latest high resolution sensors, these ruggedized cameras deliver outstanding performance under harsh conditions.
Additional features include pixel correction, flat-field correction, white balancing and more. Combined with our vast selection of precision optics for large format sensors, you have a winning solution!
MZMT12X motorized macro zoom lenses
MZMT12X high resolution motorized macro zoom lenses deliver superior optical performance in a compact and robust design, with or without coaxial illumination. These lenses integrate two bipolar stepper motors that control zooming and focusing with fine incremental movements and accurate repetitive positioning.
All of these features make these zoom lenses perfect for all those offline and inline applications requiring frequent changes of format with consistently high image quality.
Dynamic Optics (co-exhibitor)

INTERCONTINENTAL HOTEL, GRAND BALLROOM (3RD FLOOR)
Pupil segmentation with multi-actuator adaptive lens.
INTERCONTINENTAL BALLROOM (5TH FLOOR)
Adaptive quasi-sensorless correction of low order aberrations on small size telescopes with multi-actuator adaptive lens.
Room 201, Moscone Center south level two
Free space fiber coupling efficiency enhancement with multi actuator deformable lens.
Room 201, Moscone Center south level two
Correction of non-common path aberration using a deformable lens in pyramid wavefront sensor-based AO systems.
Wavefront sensor Dynamic Optics wavefront sensor measures the wavefront of an incoming beam. The sensor can be used to provide accurate measurements of the quality of optical components such as mirrors and lenses.
According to the design of the sensor head it is possible to measure the wavefront with an accuracy of more than lambda/100 with a dynamic range of 20diopters.
The Photon Loop software can measure the wavefront with a high speed and good resolution (160fps with 43 x 43 spots or 600Hz with 10 x 10 spots). Photon Loop can also be controlled with TCPIP protocol.
Dynamic Optics wavefront sensor is the ideal solution for the measurements of the flatness of components, optical quality of lenses and mirror and atmospheric turbulence.